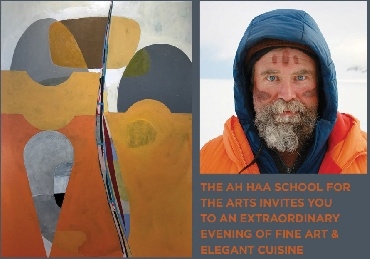 Date:
December 31, 2018 to December 31, 2018
Where:
Ah Haa School For the Arts
Event Type:
Arts & Theater, Concerts & Music, Education, Fami
An Extraordinary Evening of Art & Wine | December 31st | 5:30 to 10:00pm Think of it: New Year's Eve at an art school. A mixture of fun, creativity and yes, elegance. Surrounded by the new works of this year's guest artists, the Daniel Tucker Gallery is transformed into a formal dining room where guests can enjoy a cocktail reception with hors d'ouevres followed by a four-course, plated, sit-down dinner catered by one of Telluride's exceptional chefs. This year our Gala has a new twist, as we feature a visual artist and a storyteller/writer. Attendees will be captivated by stories from Craig Childs, and inspired by the work of abstract artist Chris Miller. Both men will offer intimate presentations that will enchant everyone in attendance. What a fabulous way of ringing in the new year!