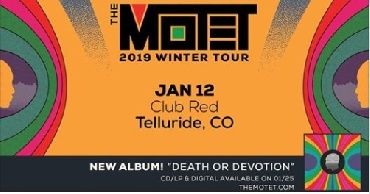 Date:
January 12, 2019 to January 12, 2019
Where:
Club Red Telluride, 565 Mountain Village Blvd, Telluride, Colorado, United States, 81435
Event Type:
Concerts & Music
Beyond The Groove
presents
The Motet
Genre: Funk, Afrobeat, Jazz, and Dance
Doors: 7:30 pm
Start: 8:00 pm
Age: All ages
Price: $30 GA / $40 High Table Seating GA / $50 Preferred Platform Seating + Fees
Subscribe to Club Red's newsletter for show updates & other news here:
http://bit.ly/ClubRedNewsletter
Visit their website for show & ticket information:
clubRedTelluride.com
About -
A concert or an album can unlock another world, if you let it. The Motet respect and revere this time-honored phenomenon. Fusing fiery funk, simmering soul, and improvisational inventiveness, the Denver, CO seven-piece-Lyle Divinsky [vocals], Dave Watts [drums], Joey Porter [keyboards], Garrett Sayers [bass], Ryan Jalbert [guitar], Parris Fleming [trumpet], and Drew Sayers [saxophone]-have continually provided an escape for listeners over the course of seven full-length albums since 1998, including their latest release Totem and with an upcoming 2019 release. That extends to countless sold out shows and festivals everywhere from Bonnaroo, Electric Forest, and Summer Camp to All Good Music Festival and High Sierra Music Festival as well as 16 consecutive years of themed Halloween concerts.