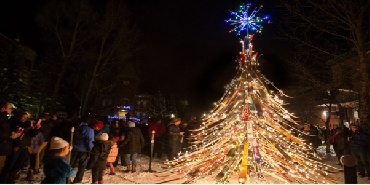 Date:
December 05, 2018 to December 05, 2018
Where:
Elks Park, Telluride, Co
Event Type:
Family, Other
Watch Telluride light up on one of our favorite nights of the year! Noel Night marks the beginning of the holiday season with the ceremonial Ski Tree and Main Street lighting ceremony at 6:00 pm in Elks Park. Get there early for some hot chocolate by the bonfire at 5:30 pm. What follows is best known as a holiday shopping extravaganza. All the stores around town offer awesome discounts, food, and beverages.